Supporters Network for Community Development "Machizukuri"

back

index

next
15. Downtown Renaissance
〈article 14、 15、 16)〉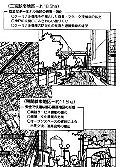 Machizukuri concept for rehabilitation of Sannomiya (central downtown) district
 For Kobe City, reconstructions of the central downtown district --Sannomiya -involves more than the rebuilding of lost buildings. Creative reconstruction should lead to desirable downtown development in the long term, including the recovery of business functions and creating new townscapes suitable for the downtown area.
 Unlike individual houses, the companies, though affected by the earthquake, had to keep their business running. They restarted their business by relocating to Osaka or somewhere else. As a result, the rebuilding of office space in Sannomiya was slow because the building owners were not sure if their tenants would come back.
 In another downtown commercial area, Nankin-machi, where there is the well-organized Machizukuri association, is possible to restore the area based on its community of "Chinatown". In the high density area in the north of Sannomiya station, where many small bars and restaurants are located in small building complexes of many floors, has various problems for reconstruction. The rebuilding has been slow because of the site conditions of non-conformity and with complex ownership. The small business tenants have changed and new businesses are appearing in these areas.
 Downtown renaissance is a considerable challenge for the urban economy, and is also a characteristic problem of urban disasters.

back

index

next
---
Mail toSupporters Network for Community Development "Machizukuri"

---
(C) by Supporters Network for Community Development "Machizukuri"
Supporters Network for Community Development "Machizukuri"(Japanese Only)
Gakugei syuppansya HP(Japanese Only)