Supporters Network for Community Development "Machizukuri"

back

index

next
6) Establishment of Machizukuri Organization in "White Zone" --- Yasui District, Nishinomiya City K-20

Yasui machizukuri oraganization / presentation
 "Yasui Machizukuri Organization" held its first meeting at Yasui City Hall, Nishinomiya City on November 29th with the participation of about 100 local citizens.
 The damage in Yasui District, Nishinomiya City was extreme, in that more than half of all the houses were partially or completely destroyed. This district was severely damaged, as was Nishinomiya City, especially "Koto District" and "Hirota District". Support is necessary to get Machizukuri under way.
 As rapid progress of demolishing damaged buildings in the district at public expense has opened up more vacant lots, plans have been proposed for new high-rise apartments and for increasing the size of buildings which existed before the earthquake. Also, the readjustment of Yamate Kansen, which was planned by the readjustment and redevelopment project, was discussed. As there were few high rise buildings in this district before, it used to be peaceful, with low or middle size structures having up to five floors. Seeing many plans which would totally change the environment of the district, the citizens came to show a tendency to think about the Yasui District's reconstruction by themselves and a district meeting whose theme was "Thinking about the reconstruction of Yasui" was held on September 19th.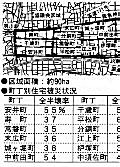 Condition of earthquake disaster in Nishinomiya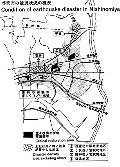 Condition of earthquake disaster in Nishinomiya
 On the other hand, the Supporters' Network of Nishinomiya Community Development Machizukuri for restoration, which consists of specialists in city development and architecture, has surveyed the damage in Nishinomiya, selected reconstruction projects, and proposed policies of reconstruction since just after the earthquake. Partly because of this kind of activity by the Supporters' Network, members of the Supporters' Network also began to attend the district meetings and to support the Yasui District.
 As the Yasui District is a so called "White Zone" and Machizukuri Organizations in White Zones are behind compared with areas designated by readjustment and redevelopment plans which can receive much administration support, the citizens themselves have to tackle the problems.
 The Yasui Machizukuri Organization not only sent out a questionnaire on future Machizukuri in this district and learned what kind of residential environment the citizens want, but also continued making rules to establish preferable Machizukuri. As a result, design of the readjustment and redevelopment plan of District Planning has progressed.

back

index

next
---
Mail toSupporters Network for Community Development "Machizukuri"

---
(C) by Supporters Network for Community Development "Machizukuri"
Supporters Network for Community Development "Machizukuri"(Japanese Only)
Gakugei syuppansya HP(Japanese Only)