P
霊魂導師(YucopompovV)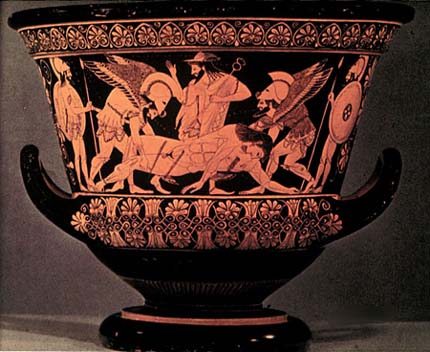 霊魂を死後の世界へと導く神の添え名。ギリシア神話ではヘルメース、カローン、エジプトではアヌービスを代表とする。その他、ある種の鳥や動物もまた、霊魂導師の役目を果たすことができた。
 

Hermes.
 

Dog.
 

Vulture.
---
[画像出典]
Hermes as psychopompos to Sarpedon
 Sarpedon was the son of Zeus and a mortal woman, who fought and was killed in the Trojan War.
 This vase painting shows Hermes supervising at center as the deities Sleep (Hypnos) and Death (Thanatos), both dressed as warriors, lift up Sarpedon's bleeding body to prepare it for the funeral. All the characters are marked with their names.
 The entire vase, which is in the Metropolitan Museum of Art in New York, can be seen below, and dates to about 515 B.C. It is about half a meter high. The master who painted this vessel was called Euphronios, and often signed his pieces.

---